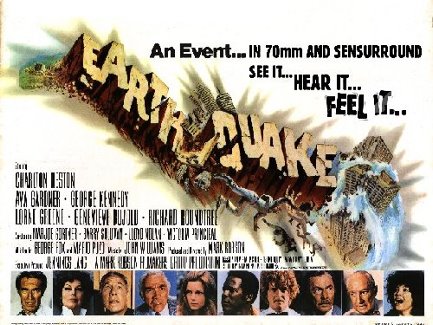 So, I followed my first ever big piece of breaking news via
Twitter
yesterday. Ok, I used
Facebook
too. And found out about the whole thing through the comparitively 'two cans tied to a piece of string' technology of MSN Messenger.
The momentous even, of course, was the great
South Lakes Earthquake of 2009
.
Lorne Greene
is already signed on for the movie, apparently.
So, within moments - well, instantly c/o messenger, I knew there had been shaking rooms across western Lancashire. Twitter and Facebook were full of 'ouch did you feel that?' messages and speculation that there'd been an earthquake.
All interesting stuff. But no facts. It could have been a tremor, it could have been Heysham Nuclear Power Station going boom (
an event which may be more likely in future
), even an outbreak of Poltergeist activity.
But it wasn't until 20 minutes or so later that any facts emerged.
The Blackpool Gazette
told me it was an earthquake, as confirmed by the British Geological Survey; the
Lancaster Guardian
revealed it was magnitude 3.7, while the
Morecambe Visitor
told me it was centred on Ulverston.
Interestingly, the BBC was late on the scene. So much for the 'menacing threat' of their local news services.
So while Twitter, Facebook and the rest added colour, it was mainstream media who provided the facts. Another victory for the 'dead tree press.'